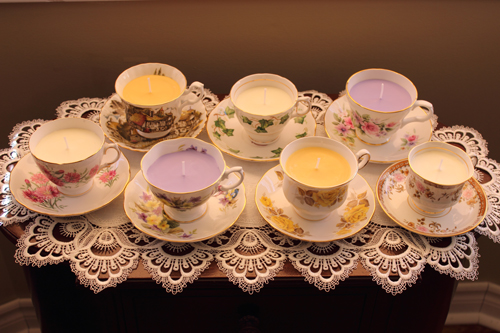 Our Candles
Our candles are made from vintage fine bone china teacups from England and 100% pure soy wax, organic essential oils and all natural cotton wicks. This offers you the cleaner burn which has no toxins, carcinogens or pollutants which means itís less likely to trigger allergies. No petrol-carbon soot like you get from petroleum-based paraffin candles. Soy wax burns cooler which means that you can enjoy your soy wax candle for generally 30-50% longer than a paraffin candle. It is also water soluble. This means that once our candles have been used the teacup can be washed with hot, soapy water, and reused for tea yet again, leaving you with a beautiful vintage teacup to add to your collection.


Our Crafts


We also offer a variety of handmade crochet items: Hats, scarfs, cell phone cases, key chain lip balm holders, mug cozy, face cleaning pads, soap savers.

Our handmade microwaveable kitty and dog shaped all natural heating pads. Filled with flax seeds and essential oils are a treat with all ages.

Our handmade tooth fairy pillows are small stuffed mini cotton pillows with beaded lace trim. Each pillow has a cute little tooth character on the front and a separate pouch on the back for safe keeping of your tooth.



Thank-you for visiting ......

If you require assistance, please click on FAQ or Help / Info above.